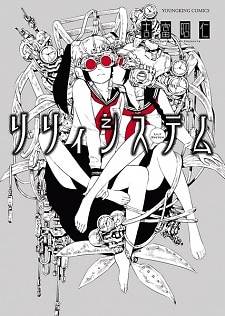 Lily System
JP: リリィシステム (Ririishisutemu)

Author: Akihito Yoshitomi

Tags: Mystery, Kissing, School Girls, Sci-Fi, Childhood Friends
What is it about?
Two girls, Nana and Mizuki, uncover the mystery behind a complex virtual reality machine left behind in Mizuki's grandfather's shed.
Review
If you are looking for yuri that is as much psychological thriller as it is romance, this is it. The story is simple, and so it relies heavily on visual eye candy and open ended questions to keep your interest until its climax. Because of how open ended it keeps itself, I found the narrative to be a bit weak in the places that weren't directly concerning the girls' relationship.
The art is great all around, but the backgrounds are nothing short of gorgeous. Often I'd turn a page and be left stunned by the details of a panel.
Final Thoughts
Lily System is a short but wild read filled with symbolism that can be a little hard to follow; but don't let that dissuade you from giving it a chance to show you what it has to offer, and if you still find yourself feeling lost from its zany antics, Akihito makes sure to spell it out for the reader pretty clearly by the end.
Yuri Score: Level 3 - Definitive Yuri
Overall Score: 6/10
Favorite Panel: